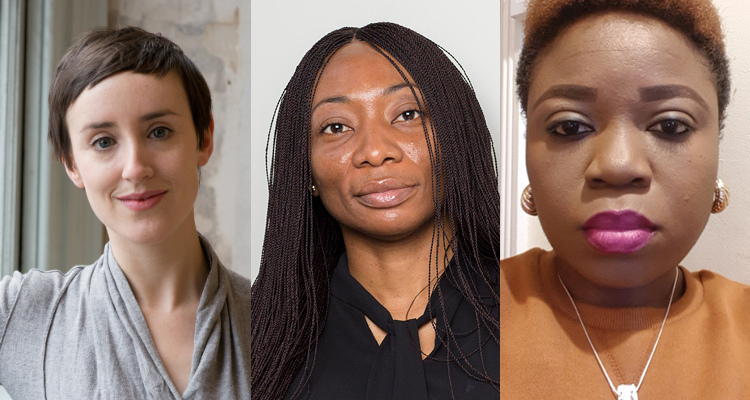 Ireland of the Welcomes: New Communities Writing Home – Podcast
Saturday, April 25 @ 11:00 am

-

12:00 pm

|

Free
LISTEN HERE
All of our events are free, but if you are able and willing to donate, your support will be much appreciated. All donations received this year will go towards supporting the fees we pay our writers. Donate here.
If you'd like to buy the books, you can do so at Charlie Byrne's Festival Bookshop here. 
After years of emigration, Ireland is now home to more diverse communities who enrich our culture, yet immigration is not an equal experience for all. In a world of hardening borders, how do we make space for new definitions of Irishness and ensure that our society continues to grow and change? What can these writers tell us about our nation, more than a century after the birth of the state? And how can we best listen to the vital stories they have to tell?
Join writers Melatu Uchenna Okorie and Owudunni Mustapha on this live podcast recording to hear some of the best new writing Ireland has to offer and to share in their stories of what it means to find and make a place a home.
Melatu-Uche Okorie was born in Enugu, Nigeria and has been living in Ireland for twelve years. She has an MPhil in Creative Writing from Trinity College, Dublin. Her work has been published in Dublin: Ten Journeys One Destination (2010), Alms on the Highway, LIT Journal, College Green Magazine. Her debut collection, This Hostel Life, was published in 2018.
Owodunni Mustapha popularly known as Ola, is from Nigeria, and is a graduate of Political Science and a mum of three. She is an asylum seeker currently living in Direct Provision in Ireland. She is a writer/aspiring poet and has had work published, including Up the Hill in Mayo (2019) and Correspondences (2019) and MASI Journal. She is the founder of Ballyhaunis Inclusion Project and last year won the Volunteer of the Year Award courtesy of Volunteer Ireland.
This panel will be moderated by Jess Traynor. Jess is a poet based in Dublin and the editor of Correspondences (2019), an anthology of writing by and for writers living in direct provision in Ireland, published by The Stinging Fly Press.