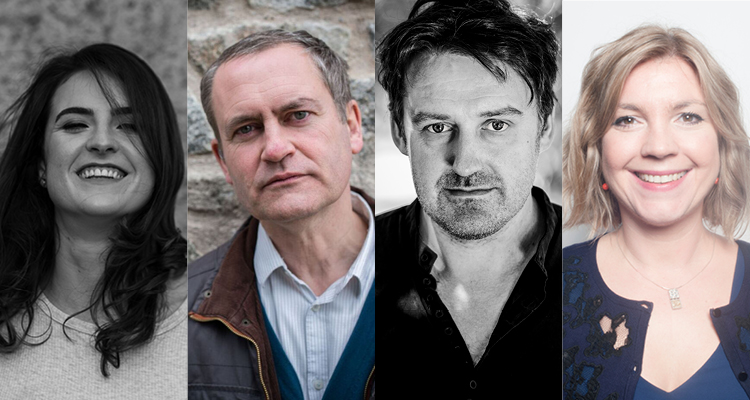 'Mothertongues': Ciara Ní É, Ifor ap Glyn and Pàdraig MacAoidh
Thursday, April 23, 2020 @ 1:00 pm

-

2:00 pm

|

Free
WATCH LIVE HERE
All of our events are free, but if you are able and willing to donate, your support will be much appreciated. All donations received this year will go towards supporting the fees we pay our writers. Donate here.
If you'd like to buy the books, you can do so at Charlie Byrne's Festival Bookshop here. 
In partnership with British Council, Welsh Government and Literature Wales.
National Poet of Wales Ifor ap Glyn, Ciara Ní É and Pàdraig MacAoidh present new poems delving into the idea of language, from a Welsh, Scots Gaelic and Irish language perspective. With captivating performances, their work will explore identities and how languages continue to evolve. Above all, they'll revel in the sheer exuberance of their respective 'mothertongues' – and celebrating our distinct literary cultures. Presentations and discussions will be in English with on-screen translations of the poems.
Ciara Ní É is DCU Writer in Residence 2020. She is the founder of REIC, a monthly multilingual spoken word and open mic night that features poetry, music, storytelling and rap. She has performed internationally in New York, London, Brussels, Sweden, and across Ireland, and she is an Irish Writers Centre ambassador. Her work has been published in a variety of journals including Icarus and Comhar and her first poetry collection is forthcoming.
Ifor ap Glyn National Poet of Wales Ifor ap Glyn was born and bred in London to Welsh parents. He is a multi-award-winning poet, presenter, director and producer. A prolific writer, Ifor has twice won the Crown at the National Eisteddfod – one of the festival's most prestigious prizes. Ifor has represented Welsh poetry around the world in both the Welsh and English language, most recently in Cameroon, Lithuania, China, Belgium, Germany, and Ireland.
Pàdraig MacAoidh A native Gaelic speaker from the Isle of Lewis, Pàdraig MacAoidh is an academic, writer and broadcaster whose work is influenced by the diverse linguistic heritage of his birthplace. Padraig has worked at the Seamus Heaney Centre for Poetry, Queen's University Belfast; Trinity College Dublin and University College Dublin; and at Sabhal Mòr Ostaig, where he was writer in residence. He is the author of a monograph on the work of Sorley MacLean (RIISS, 2010), and has co-edited collections of essays on modern Irish and Scottish poetry and on Scottish Gaelic literature.
The event will be introduced by Lleucu Siencyn, CEO of Literature Wales, who will convene an audience Q&A following the performances.
Image Credits: Ifor ap Glyn – Rhys Llwyd; Ciara Ní É – Brian Moyne; Lleucu Siencyn – Kate Stuart