04 April 2022
Breaking Ground Ireland, celebrating 80 writers and illustrators from ethnic minority backgrounds
Cúirt International Festival of Literature and National University of Ireland, Galway present Breaking Ground Ireland, a landmark project showcasing and celebrating 80 writers and illustrators from ethnic minority backgrounds, including Irish Traveller writers, from the island of Ireland.
The booklet was launched on Tuesday 5th April 2022 at 17:30 in the Mick Lally Theatre, Druid Lane, Galway.
The booklet, in print and digital format, showcasing writers at every stage of their careers from emerging and early-career to established voices. The booklet will raise the profile of over 90 contemporary Irish authors from under-represented, culturally diverse backgrounds and will be a valuable resource nationally and internationally, demonstrating the range of contemporary Irish literature. It also includes an essay by novelist Kit de Waal.
The booklet will be distributed to organisations around Ireland including publishers, editors, festivals, arts organisations and local authorities after its launch at Cúirt International Festival of Literature (4-10 April 2022)
Full List of Authors and Illustrators in Breaking Ground Ireland: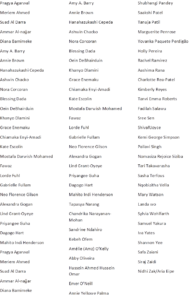 Breaking Ground Ireland is a continuation of their existing Breaking Ground  series, which since its inception has supported the careers of hundreds of British writers and illustrators of colour.
Breaking Ground: Celebrating Writers of Colour – Speaking Volumes (speaking-volumes.org.uk)
 Irish literature is widely recognised and beloved around the world, but recent studies [Words Ireland, Diversity and Awards 2020 | The Arts Council | An Chomhairle Ealaíon] have found that our literature sector does not reflect the breadth and diversity of writing talent working in Ireland today. Breaking Ground Ireland seeks to address this.
 Visibility is an important step on the path to building a career as a writer and we hope that this project will provide meaningful opportunities for writers who have not benefited from traditional platforms, and support change growth in Ireland's literature sector.
 The founders of Speaking Volumes have said that:
'Since Speaking Volumes conceived Breaking Ground in 2013 to champion British writers of colour in the UK and abroad, we've witnessed a sea change in the literature landscape. From festivals' increasingly diverse programmes to media reviews of authors of colour, the sector is starting to reflect what Britain really looks like. Our Breaking Ground authors include Booker Prize winner Bernardine Evaristo, new non-fiction voice Johny Pitts, up-and-coming poet afshan d'souza-lodhi and children's author-illustrator Ken Wilson-Max among the hundreds we highlight – all of whom have benefited positively from being part of a project with racial and social equality at its heart. We have no doubt that Breaking Ground Ireland will have the same wide impact and are delighted to be part of this new iteration.
Additional project partners include The Irish Writers Centre. Together with Cúirt, IWC will devise a bespoke development programme for up to six writers from Breaking Ground Ireland. This programme will be devised in collaboration with each mentee, and may include mentorship with a writer, tailored workshops and opportunities to perform their work over a period of 3-6 months.
 Valerie Bistany of The Irish Writers Centre says:
'The Irish Writers Centre is honoured to partner with Cúirt, NUIG and Speaking Volumes (UK) on this timely initiative which seeks to break barriers of access to under-represented writers in Ireland with the publication of Breaking Ground Ireland.
The IWC will play its part in helping to disseminate the publication across our networks to writers and stakeholders who can engage those writers and welcome them into the literary community.  We are also excited by the prospect of creating a bespoke collaborative programme for up to six of those writers at an early part of their career to encourage and give them the confidence to continue writing and to immerse themselves in our community.  This new initiative follows in the wake of our very successful Young Writers Delegate programme that we offer to festivals, and that Cúirt has championed, hosting our inaugural YWDs in 2019 and every year since.
Celebrating our 30th anniversary this year, the announcement of this partnership is a fitting end to our celebrations and heralds in an important direction for us in our fourth decade as the leading resource organisation for writers of all types and talents  across the island.'
 Other writers supporting the project include :
 Nidhi Zak/Aria Eipe,  who has said
 'Breaking Ground Ireland is a welcome and promising initiative to spotlight literary talent, foster creative community, and celebrate the rich plurivocity of stories that enliven contemporary Ireland'
 Sebastian Barry:
 'What a joy, an inspiration, and a revelation it has been to read and experience in recent years the revolutionary work of Oein deBhairduin, Rosaleen McDonagh, Yan Ge, Melatu Uche Okorie, among others. These might once have been designated 'marginal' voices. Now they are central, restoring the ground of Irish Literature, erecting graceful, healing, urgent structures of words. Any expansion in this area will be only a boon and a wondrous harvest for Irish literature.'
 Chandrika Narayanan-Mohan:
'I am so excited to see the writing that will come out of the Breaking Ground Ireland initiative, spearheaded by Cúirt and run in collaboration with Speaking Volumes. In an environment where diversity can often be a box-ticking exercise, it's great to see a major Irish festival working with another organisation that specialises in getting underrepresented voices heard, to create paid opportunities for writers from ethnic minority backgrounds. Committing to supporting 80 artists through this initiative will make a real impact on the Irish literary landscape, enabling the sector and its audiences to read works by writers that are creating brilliant new work in this country. The programme understands that the combination of visibility, tangible results, and paid work is what artists need to thrive. I can't wait to see the publication produced from this initiative, to read wonderful new writing but also to use it as a resource to expand my network of brilliant writers!'
 Lisa McInerney:
'Breaking Ground Ireland is such an exciting initiative. It's essential that writers feel like their perspectives and stories matter, and this is a practical, positive and dynamic way of supporting writers from underrepresented backgrounds, who don't always enjoy access to traditional publishing platforms. I'm so looking forward to what comes from it, and the fuller, more inclusive vision of Ireland we'll all be able to take inspiration from.'  –
 Adiba Jaigirdar:
'Despite Ireland's amazing contributions to literature, there has always been a lack of ethnic minority voices from Ireland. It's especially been noticeable now with globalisation and Ireland's growing multicultural identity. It's really amazing to see a project like Breaking Grounds Ireland coming to the fore, and shining a light on those voices that have been left out of the narrative for a long time. I hope that this will give many more opportunities to ethnic minority authors in Ireland, and help budding new writers feel like they have a space here.'
For more information see: www.cuirt.ie/breaking-ground-ireland/