11 November 2017
Joseph Conrad – Inspirations / Inspiracje
Celebrate National Polish Independence Day this weekend with the Bardzo Ładnie Foundation
This weekend the Inspirations Festival will celebrate National Polish Independence day with a series of events taking place around Galway City on Saturday and Sunday, to celebrate the life and work of Joseph Conrad Korzeniow. Regarded as one of the greatest novelists to write in the English language, not many people are aware that Conrad was a Polish national.
As a response to the announcement by the Polish Government that 2017 was the Year of Joseph Conrad, the Bardzo Ładnie Foundation, with the support of Cúirt International Festival of Literature and the Embassy of the Republic of Poland, will run a series of events to celebrate his life and works.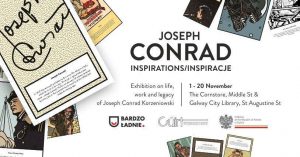 The weekend will kick off with the opening of Conrad – Passenger of Nostromo, in the Cornstore at 4.00pm on Saturday, followed by children's workshops and a selection of Polish food and drinks. This visually appealing, comic-style exhibition showcases Joseph Conrad's influence on modern culture – clearly traceable in film adaptations such as Victory and Apocalypse Now, films directed by Ridley Scott, songs by Bob Dylan, Taboo television series and many others.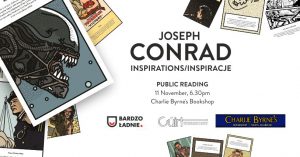 From there, make your way to Charlie Byrnes bookshop for 6.30pm and refresh your knowledge of Joseph Conrad's works at a reading of his best-known novels. Well-known Galway personalities will read their favourite passages from Conrad's novels, both in English and Polish. All ages welcome.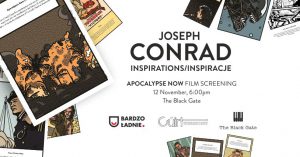 On Sunday, 12th November, join us in The Black Gate Cultural Centre at 6.00pm, to experience one of the best screen adaptations of a Joseph Conrad's novel – Apocalypse Now. The cult movie, today considered to be one of the greatest films ever made, adapts the story of Conrad's Heart of Darkness.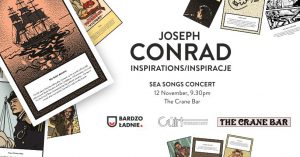 The final event of the weekend is a music session in The Crane Bar at 9.30pm on Sunday evening. Joseph Conrad's life was as interesting as his books. The many years he spent as a master mariner in the British merchant navy proved a rich source for his novels. This important chapter of Conrad's life will be celebrated with a sea songs music session by Polish and Irish artists. The Crane Bar is one of the temples of traditional Irish music and we are delighted to sail under their flag for this night.