Visit Galway
Recently voted the friendliest city in Europe, Condé Nast Traveller have only confirmed what we've always known about Galway. The cultural gem in the heart of the West, Galway is the perfect base for exploring the environments immortalised by artists through the centuries, like the wilds of Connemara and the Burren in Co. Clare. See for yourself what has fascinated writers for generations, and make Galway the start of your adventure into the West.
Places to Stay
Cúirt is delighted to be partnered with some of the best accommodation in the West of Ireland. Have a look at the best the greater Galway area has to offer, for every kind of holiday..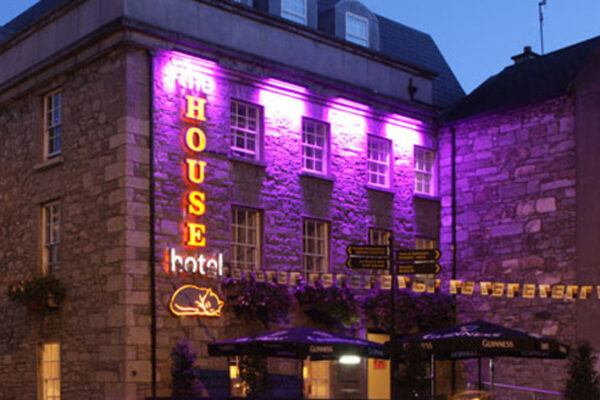 House Hotel
"Where city luxury and boutique surroundings meet, and where comfort, style and a friendly atmosphere become one."
View Website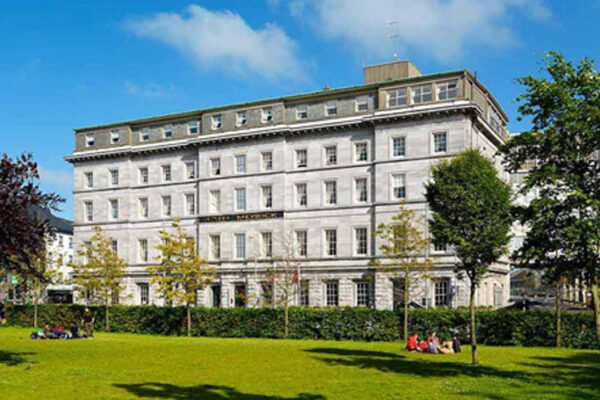 The Hardiman
"An iconic Galway landmark with an intriguing history. Formerly the Meyrick."
View Website
Transport
While Galway is a lovely walkable city, the local bus system comes in handy on those quintessential Irish rainy days. If you plan on utilising public transport, we recommend purchasing a Leap Card from one of the numerous locations shown here: https://about.leapcard.ie/about/where-to-buy. There are options for a 24 hour or 7 day ticket. You are also able to hop on and off the bus for a €1.96 fare. The Real Time Ireland app or Google Maps are the best tools for finding the nearest bus stop and tracking arrival times. 
Wi-Fi
Free Wi-fi hotspots have been set up in numerous public spaces around the city. Some spots that you may come across are Eyre Square, Nimmos Pier, and the Salthill Promenade. A map of all Galway locations can be found here: https://www.galwaycity.ie/news/2425/59/Free-public-Wi-Fi-rolled-out-across-Galway-City/d,News%20Detail.
Take a peek at these if you have time on your hands and are looking to get out of the city:
The city of Galway offers a lovely combination of indoor and outdoor activities. 
Spend some time in at:
Palás Cinema
Galway Arts Centre
Galway Arts Centre is the home to Cúirt Festival and is the host to brilliant visual arts exhibitions. Entry is free and you can check out details of the exhibitions here – https://www.galwayartscentre.ie/exhibitions/
Charlie Byrne's
We have a very special place in our heart for our festival bookseller Charlie Byrne's. Find them in the lobby of our venues with their pop up bookshop after each event. Give yourself a few hours to visit the flagship bookshop and browse their multiple rooms.
Galway City Museum
Get to know Galway better by visiting the Galway City Museum located just through the Spanish Arch. Check out what exhibitions they have on here – galwaycitymuseum.ie 
Make sure to book a free ticket in advance of your visit. 
Outside attractions include:
Salthill Promenade 
Take a stroll out to the seaside area of Salthill and walk the Prom (make sure you kick the wall at Blackrock!). If sea swimming is your thing there are multiple spots to get in including Ladies Beach and the Blackrock Diving Tower. We'd recommend heading at high tide. Check out daily times here – https://www.tidetimes.org.uk/galway-tide-times
Poetry Trail Walking Tour
Now spanning over 25 locations, the Galway Poetry Trail is a celebration of the literary roots and heritage of our vibrant cultural city. Join Tom Kenny of Kenny's Bookshop for a guided tour of some of the highlights of the Galway Poetry Trail. This is a drop-in event so there is no need to book. Please wear weather appropriate clothing as this will take place outside. More info and times available here – https://www.cuirt.ie/whats-on/poetry-trail-walking-tour/
Farmer's Market
Get yourself going on Saturday + Sunday with a visit to the Farmer's Market which runs in the square by St Nicholas' Church from the morning to the afternoon. Stalls include fresh fruit and veg, olives, juices, excellent Indian snacks and loads more.
Claddagh Walk
Take in the majestic Galway Bay with a walk along the Claddagh Walk. Kicking off at Nimmo's Pier and going through South Park if you have time to spare it is a wonderful way to wander out to Salthill. 
Galway Walking Tour
Get to know Galway city yourself with a walking tour! There are great led tours available but there is great information here if you want to get to know the place yourself. https://www.galwaytourism.ie/walking-tours-galway-city/
Galway Atlantaquaria – National Aquarium of Ireland
https://www.nationalaquarium.ie/
Along the route to Salthill you'll find the majestic Atlantaquaria which is Ireland's largest native species aquarium. An EAZA accredited Aquarium that celebrates education, awareness and conservation and a brilliant way to spend a few hours!