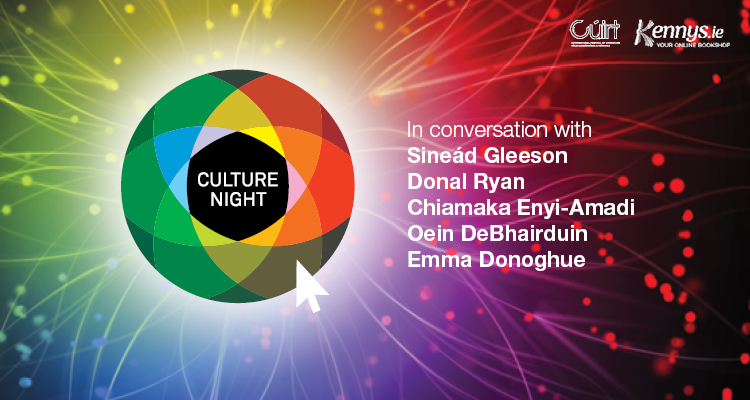 Celebrating the Irish Short Story
Friday, September 18 @ 7:00 pm

-

8:00 pm
WATCH OUR EVENT HERE NOW
Irish writing knows little of boundaries, spanning from sublime realism to brilliant genre fiction to gound-breaking experimentation, and nowhere is this more clear than in the short story. The Art of the Glimpse , soon to be released by Head of Zeus Publishing, is a anthology brings together a radical revision of the canon of the Irish short story.
For Culture Night 2020, join a stellar line up of Emma Donoghue, Oein DeBhairduin, Donal Ryan, Chiamaka Enyi-Amadi and Sinéad Gleeson for an evening of stories and a discussion about the rich tradition of storytelling in Irish writing.
This event is in partnership with Culture Night and Kenny's Bookshop.
Sinéad Gleeson is a writer of essays, criticism and fiction. Her writing has appeared in Granta, Winter Papers and Gorse, and Being Various: New Irish Short Stories. She is the editor of three short story anthologies, including The Long Gaze Back: an Anthology of Irish Women Writers and The Glass Shore: Short Stories by Women Writers from the North of Ireland, both of which won Best Irish Published Book at the Irish Book Awards. Her first collection of essays, Constellations, was published last year. Most recently, she is the editor of The Art of the Glimpse: 100 Irish Short Stories.
Donal Ryan, from Nenagh, Co. Tipperary, is the author of six bestselling books. He has won numerous awards for his fiction, among them the European Union Prize for Literature, the Guardian First Book Award and three Irish Book Awards, and has been shortlisted for several more, including the Costa Book Award, the IMPAC award and the Prix Jean Monet de Littérature Européenne. He was nominated for the Booker Prize in 2013 for his debut novel, The Spinning Heart, and again in 2018, for his fourth novel, From A Low and Quiet Sea. His work has been adapted for stage and screen and translated into over twenty languages. His latest novel, Strange Flowers, was published in August 2020 by Penguin Random House.
Oein DeBhairduin is an educator, poet, folk herbalist and an avid archivist of Traveller tales, sayings, retellings and historic exchanges. He manages an education centre, has had the honor of being vice-chair of the Irish Traveller Movement, a council member of Mincéir Whidden and a board member of several local Mincéirí action groups. His first collection of stories, Why the moon travels, has just been released by Skein Press.
Chiamaka Enyi-Amadi is a writer, editor, performer & arts facilitator. She was born in Lagos, Nigeria and grew up in Dublin, Ireland. A recent honors graduate of University College Dublin, her work has been published in Architecture Ireland, Poetry International, Poetry Ireland Review and on the RTÉ Poetry Programme. She was awarded the Poetry Ireland Access Cúirt Bursary in 2019. She is the co-editor of Writing Home: The 'New Irish' Poets – a major anthology of writing from Ireland published by Dedalus Press in 2019.
Born in Dublin in 1969, Emma Donoghue is an Irish emigrant twice over: she spent eight years in Cambridge, England, before moving to Canada's London, Ontario. She is best known for her novels, which range from the historical (The Wonder, Slammerkin, Life Mask, The Sealed Letter) to the contemporary (Akin, Stir-Fry, Hood, Landing). Her international bestseller Room was a New York Times Best Book of 2010 and was a finalist for the Man Booker, Commonwealth, and Orange Prizes; her screen adaptation, directed by Lenny Abrahamson, was nominated for four Academy Awards. Her most recent novel, The Pull of Stars, was released by Picador in July.
To pick up a copy of the book, head to the Kenny's Bookshop wesbite and pre-order your copy today!
Ticketing Information: Attendees can either choose to 'Pay What You Can' or register for a free ticket. All income will go towards supporting Cúirt to deliver this event and events in future.