04 April 2021
Bookmarked: Cúirt 2021 is finally here!
After a year of tireless work to put together this wonderfully diverse programme, Cúirt 2021 is finally here. Take a look at some of these events for some last minute recommendations. We hope you love the festival as much as we have loved putting it together!
Emma Dabiri: 'What White People Can Do Next' with Blindboy
A work of history, sociology, philosophy and social commentary, Don't Touch My Hair explored in fascinating detail an aspect of anti-Black discrimination so commonplace as to be almost invisibilised. Emma Dabiri's second book, What White People Can Do Next, is a challenge to all of us taking the first tentative steps of standing up against a society that still struggles to move past narratives of Irish national exceptionalism.
Though our history is one of colonial oppression, the Irish state – from immigration policy, to direct provision, to the housing crisis – seems all too ready to step into those colonialist shoes. Dabiri's book calls for more than gestures, thoughts and prayers, demanding education and substantial, sustainable action. This conversation with one of Ireland's sharpest, wittiest and most rigorous writers, will be essential viewing. Emma will be joined in conversation by Blindboy Boatclub.
Emma Dabiri is an Irish-Nigerian academic,activist, broadcaster and teaching fellow in the Africa department at SOAS and a Visual Sociology PhD researcher at Goldsmiths. Her 2019 debut Don't Touch My Hair was an Irish Times Bestseller and published to critical and commercial acclaim. The book also inspired a national conversation about race and hair and has led to changing regulations in schools and in the British army.
A regular broadcaster on the BBC, Emma presented 'Back in Time Brixton' (BBC2), 'Britain's Lost Masterpieces' (BBC4), as well as the sociological experiment 'Is Love Racist?' (Ch4). Most recently, she hosted Radio 4's critically-acclaimed documentary 'Journeys into Afro- futurism'.
Hosted by Blindboy.
This is a pre-recorded event. It will not have a Q&A.
Access options: This event will have closed captions.
Tickets: https://www.eventbrite.ie/e/emma-dabiri-what-white-people-can-do-next-with-blindboy-tickets-144909547357?aff=ebdsoporgprofile
Douglas Stuart in conversation with Colm Tóibín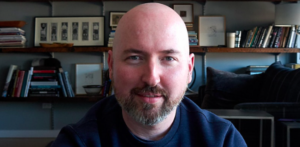 Cúirt is thrilled to welcome Douglas Stuart, winner of the 2020 Man Booker Prize for Fiction, to the festival for the first time, in conversation with one of our Ireland's greatest living writers, Colm Tóibín.
Shuggie Bain has been compared to Hanya Yanigahara's A Little Life and Frank McCourt's Angela's Ashes. The novel tells the story of the Bain family, struggling to make ends meet during post-industrial Glasgow's hardest years of the late 80s and early 90s. Agnes and her son, Shuggie, survive through social instability, generational poverty, addiction and abuse, a world in which Shuggie must come of age with few role models and fewer means of escape.
Douglas Stuart was born and raised in Glasgow and graduated from the Royal College of Art in London before moving to New York to begin a career in fashion design. Beside the Booker Prize win, Shuggie Bain was a finalist from the National Book Award and the Kirkus Prize, and is set to be translated into over thirty languages.
'You will never forget Shuggie Bain. Scene by scene, this book is a masterpiece' – Kirkus reviews
This is a pre-recorded event. It will not have a Q&A.
Access options: This event will have closed captions.
Tickets: https://www.eventbrite.ie/e/douglas-stuart-in-conversation-with-colm-toibin-tickets-145593615423?aff=ebdsoporgprofile
Alexander Chee and Carmen Maria Machado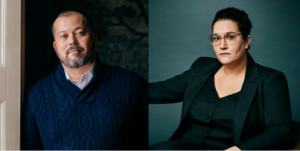 Contemporary writing seems increasingly unencumbered by the strictures of genre, and few authors have challenged these boundaries better than Alexander Chee and Carmen Maria Machado. Their body of work comprises short stories, novels, essays, literary non-fiction, lyric fragments; even listing these as discrete categories feels like a misrepresentation of two bodies of work that are always defiantly, inspirationally, a mode of writing all to themselves.
With a laundry list of admirers of his novels on both sides of the Atlantic, Alexander Chee's first collection of non-fiction, How to Write an Autobiographical Novel, adds to his accomplishments as one of the finest essayists of his generation. Here, Chee explores the ways life, literature and politics refuse to disentangle themselves, how a life of reading and writing have fundamentally changed the person he has come to be.
Carmen Maria Machado also defies expectations with her innovative and engrossing memoir, In the Dream House. The book is a bold dissection of her experiences of domestic abuse, conducted with incredible wit and an inquisitive spirit: through a series of tropes pulled straight out of genre fiction, Machado repeatedly attempts to understand what she survived using only the tools reified by popular culture.
This event will be moderated by writer, educator and arts programme designer, Shannon Yee.
'Excruciatingly honest and yet vibrantly creative' – The Irish Times
'This book makes me feel possible' – Ocean Vuong
Tickets: https://www.eventbrite.ie/e/alexander-chee-and-carmen-maria-machado-tickets-144912644621?aff=ebdsoporgprofile
The State of Her: The Future for Irish Feminism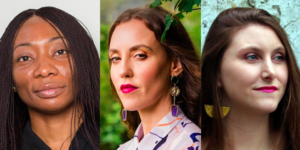 Although some high-profile victories have been won regarding women's safety and wellbeing in Ireland in recent years, it seems clear that these movements have, in some places, failed to reach the most vulnerable women in Irish society. How far, really, have we come?
Between the women whose privacy was violated in the recent Discord leak, the untenable costs of reproductive healthcare, the women still struggling to survive the trauma of institutionalisation, and the daily harassment and violence faced by trans women and women of colour, it's clear that there is still much work to do.
Joining Melatu Uche Okorie in conversation are Louise O'Neill and Caelainn Hogan, two writers whose work interrogates, in very different forms, the history of discrimination, inequality, and violence against women that has become Ireland's legacy.
Louise O'Neill is a writer of books for young people and adults. Her first novel, Only Ever Yours, was released in 2014 and went on to win the Sunday Independent Newcomer of the Year award, the Eilís Dillon Award and the YA Book Prize. After the Silence was released in September 2020 and became an instant bestseller. It won the Crime Fiction Novel of the Year at the Irish Book Awards.
Caelainn Hogan is an Irish writer and journalist. Her first book, Republic of Shame, explores the ongoing legacy of Ireland's religious-run institutions. She has reported internationally on conflict, migration and inequality. Her work has appeared in The New York Times, The Guardian, VICE Magazine and The Washington Post.
Melatu-Uche Okorie was born in Enugu, Nigeria and has been living in Ireland for twelve years. She has an MPhil in Creative Writing from Trinity College, Dublin. Her work has been published in Dublin: Ten Journeys One Destination (2010), Alms on the Highway, LIT Journal, College Green Magazine. Her debut collection, This Hostel Life, was published in 2018.
This is a live broadcast event and will have a Q&A at the end. If you'd like to ask a question, you can do so via Youtube's live chat.
Tickets: https://www.eventbrite.ie/e/the-state-of-her-the-future-for-irish-feminism-tickets-145593609405?aff=ebdsoporgprofile
Marian Keyes: Voice of a Nation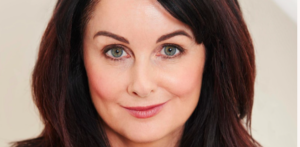 Long considered one of Ireland's best-loved writers, Marian Keyes comes to Cúirt for the very first time.
Marian Keyes's writing captures all the complications of contemporary Ireland – shifting relationships, new ways of being a family, a changing world – recounted to you with all the warmth and joy of a knees-up with a close friend. Her novel, Grown Ups, charting the lives, challenges and secrets of the Casey family, was a tonic to many who turned to her fiction for solace and comfort in an unforeseeably challenging year. Not content with simply writing excellent books, Marian has more recently a four-week (check!) novel writing course free via social media, giving insight into her writing process and helping take away some of the fear many feel when considering writing for the first time.
Hugely generous and irrepressibly funny, Marian Keyes is a force for good in the world and in this event, we take a moment to celebrate everything she has achieved in her career so far and look ahead to what's next.
An international bestselling author of fourteen novels including Watermelon, Rachel's Holiday and The Break, Marian Keyes has sold over 40 million copies of her books worldwide. Her latest novel, Grown Ups, was published in February 2020.
'Funny, tender and completely absorbing!' – Graham Norton
This is a live broadcast event and will have a Q&A at the end. If you'd like to ask a question, you can do so via Youtube's live chat.
Tickets: eventbrite.ie/e/marian-keyes-voice-of-a-nation-tickets-145593591351?aff=ebdsoporgprofile