04 April 2021
Ashford Castle Events
It's hard to overstate how much has changed in the past twelve months, but what has been heartening for many, through isolation and immeasurable loss, is how much literature has endured as a source of comfort, joy, solace and celebration. Building on what we achieved in 2020, this year brings a hybrid programme of events, broadcast live from Galway and recorded at the beautiful grounds of Ashford Castle – as well as some world class writers from distant shores. We have compiled a list of our pre-recorded events, brought to you from the grounds of the world-renowned Ashford Castle. This 800-year-old castle is truly remarkable, a grand, historic structure with national significance, and Cúirt is privileged to have been given the chance to use its phenomenal setting as the backdrop to the following events. 
Corpsing: Sophie White with Patrick Freyne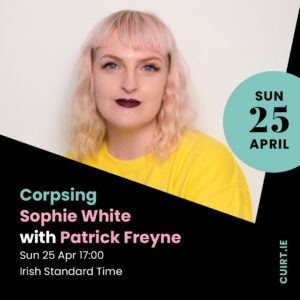 Sun 25 April
17:00 Irish Standard Time
With sharp-witted reflections on grief, mental illness, addiction and motherhood, Corpsing: My Body and Other Horror Shows is an ambitious new literary collection from Sophie White and non-fiction trailblazers Tramp Press.
Hailed as 'earthy and transcendent, painful and powerful', Corpsing has garnered praise from writers such as Marian Keyes and Mike McCormack. Louise O'Neill has praised it as 'an essential collection of essays of brutal, flaying honesty about what it means to be a woman'. Sophie is joined in this event by beloved features writer and question-asker, Patrick Freyne, for what promises to be a powerful conversation.
Sophie White is a writer and podcaster. Her first three books, Recipes for a Nervous Breakdown, Filter This and Unfiltered have been bestsellers and award nominees. Corpsing: My Body and Other Horror Shows was published by Tramp Press in March 2021. She lives in Dublin with her husband and her three sons.
Patrick Freyne spent most of his twenties trying to be a rock star before turning to the much more stable and secure world of journalism. He is a features writer at The Irish Times. OK, Let's Do Your Stupid Idea is his first book.
Book Now: https://www.eventbrite.ie/e/corpsing-sophie-white-with-patrick-freyne-tickets-145597559219
Mind Your Language:
Having a Word with Ourselves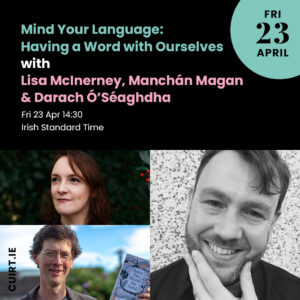 Fri 23 April 14:30
Irish Standard Time
We're grand talkers in Ireland, and not many of us would consider ourselves Gaeilgoirs – but language doesn't develop in a vacuum; our unique blend of Hiberno-English, from 'We do be giving out' to 'You've it ruined', draws heavily from Irish sounds, syntax, rhythms and vocabulary.
Writers Lisa McInerney, Manchán Magan and Darach Ó Séaghdha come together to discuss the connections between Ireland's two languages, the many dialects that have sprung from this deep well and the writing that has emerged under this influence over centuries of use.
Manchán Magan is a regular contributor to The Irish Times and presents 'The Almanac of Ireland' on RTÉ Radio 1, as well as dozens of documentaries on issues of world culture for TG4, RTÉ & Travel Channel. His book, Thirty-Two Words For Field, explores the insights the Irish language offers into the landscape, psyche and heritage of Ireland.
Lisa McInerney's work has featured in Winter Papers, The Stinging Fly, The Guardian and Granta. Her debut novel The Glorious Heresies was published in 2015 and went on to win the 2016 Baileys Women's Prize for Fiction and the 2016 Desmond Elliott Prize. The Blood Miracles, was published in 2017 and the third book in the trilogy, The Rules of Revelation, will be released in May 2021.
Darach Ó Séaghdha is the host of the popular Irish language podcast, Motherfoclóir, and is the curator of the Twitter account @theirishfor. He is the author of two books, Motherfoclóir and most recently, Craic Baby, which explores the very new and very old parts of the Irish language from a personal perspective.
Book Now: https://www.eventbrite.ie/e/mind-your-language-having-a-word-with-ourselves-tickets-144911366799
Nora: Nuala O'Connor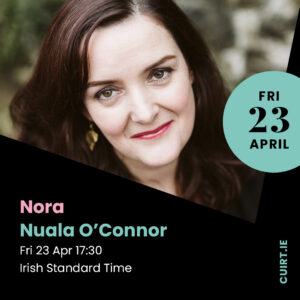 Fri 23 April 17:30
Irish Standard Time
Galway native Nuala O'Connor returns to Cúirt to launch her latest historical masterpiece, Nora, into the world.
When Nora Barnacle, a twenty-year-old from Galway working as a maid at Finn's Hotel, meets young James Joyce on a summer's day in Dublin, she is instantly attracted to him, natural and daring in his company. But she cannot yet imagine the extraordinary life they will share together. All Nora knows is she likes her Jim enough to leave behind family and home, in search of more. Nora is a tour de force, an earthy and authentic love letter to Irish literature's greatest muse. Nuala will be joined in conversation by Elaine Feeney.
'An exceptional novel by one of the most brilliant contemporary Irish writers, this is a story of love in all its many seasons' – Joseph O'Connor
Book Now: https://www.eventbrite.ie/e/nora-nuala-oconnor-tickets-144911892371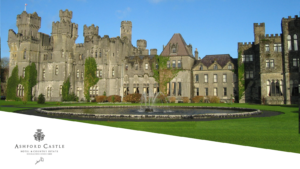 Through the grand stone gates, a royal adventure begins
Unrivalled service, warm Irish hospitality and five star luxury await at Ashford Castle, part of The Red Carnation Hotel Collection and a member of Leading Hotels of the World.  Situated in a spectacular 350 acre estate, discover sumptuous rooms and suites, splendid interiors brimming with antique furniture, fine fabrics and unique features at every turn.
Find out more about Ashford Castle: https://ashfordcastle.com/