03 March 2021
Lá Fhéile Pádraig – Reading List for Kids & Limerick Competition
Here at Cúirt Literary Festival, we love all things books and literature! With Saint Patrick's Day around the corner and spring well and truly underway (fine aul stretch in the evenings, isn't there?!), we decided to compile a list of what we believe are excellent recent releases in children's literature. We hope this list inspires and occupies your children during these beautiful spring evenings.
Break The Mould by Sinéad Burke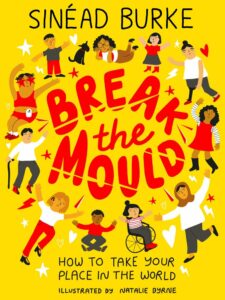 Book: Break The Mould
Author: Sinéad Burke
Publisher: Wren & Rook
Publication Date: October 2020
RRP: €9.99
ISBN: 9781526363336
This beautifully illustrated book couldn't have emerged at a better time – amid the
most turbulent year in recent history, the release of Break The Mould offers a
beautiful narrative for young people to be inspired. Children must be reminded of
their importance in the world, despite the current global madness. Break The Mould
emphasises the importance of recognising individuality and uniqueness, focusing on
building self-esteem of all children, regardless of their race, nationality, gender,
gender identity, age, sexual orientation, disability, or socioeconomic background.
During unprecedented times, parents may find themselves concerned by the amount
of screen time confronting their children. This novel gives a voice back to young
people who might have become lost in the chaotic realm of life online.
Sinéad Burke is an author, teacher, advocate, activist, and a British Vogue cover
model. This beautiful story reflects upon Sinéad's own experiences throughout
childhood, presenting a moving guide to young readers on finding their way in the
world and not being afraid to stand out from the crowd. Burke's book celebrates
differences, and encouraging young readers to be proud of exactly who they are.
"There are so many people in this world – 7.53 billion to be exact. But there is only
one of me and one of you. It's easy to think we are not good enough, or that our
nose is too big, or wish we could be more like our friends. But the world would be
different without you. You are enough just as you are…"
Break The Mould is an inspiring, heart-warming read, guaranteed to make a lasting
impression upon young readers. Cúirt honestly cannot recommend this excellent
book enough – it is a perfect addition to your child's spring-time reading list!
Buy it here: https://www.dubraybooks.ie
FING by David Walliams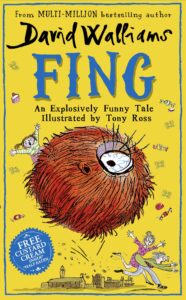 Book: FING
Author: David Walliams
Publisher: Harpercollins Children's Books
Publication Date: February 2021
RRP: €6.99
ISBN: 9780008349110
No. 1 bestselling author David Walliams' most recent release, FING, will not fail to
have your children in stitches of laughter with each turn of the page. The new
children's novel is a fabulously silly story about The Meeks, illustrated by the
wonderfully talented Tony Ross.
Myrtle Meeks has everything she has ever wanted. She has every toy in the
universe, but she still wants what she can't have; a FING! This request leaves her
parents facing one major conundrum; what on EARTH is a FING? Mr. and Mrs.
Meeks would go to the ends of the earth to make their precious daughter happy.
However, the task at hand is extremely complicated.
This novel brings the reader through the twists and turns of the quest to find a FING,
leading Myrtle's parents through the depths of the jungle where the rarest of
monsters can be found. But will they ever find a FING?
A hilarious and fun story, described by the author himself as his & funniest book yet,
FING is a must-read for all young Walliams fans.
Buy it here: https://charliebyrne.ie/product/fing/
Is There Anybody Out There by Dara O Briain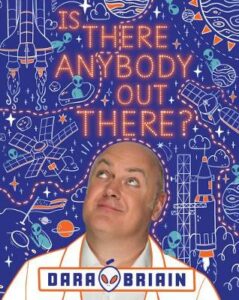 Book: Is There Anybody Out There?
Author: Dara O Briain
Publisher: Scholastic
Publication Date: October 2020
RRP: €10.99
ISBN: 9780702303944
Clever kids who love science fiction will find this book fascinating, as it draws a
parallel between fact and fiction, making it both an intriguing and educational read.
Dara O Briain is not just one of Ireland's most celebrated comedians; he is also a
qualified space expert. In this book, O Briain shares his knowledge, delivering the
information in a child-friendly, understandable way.
Is There Anybody Out There includes fun and informative chapters about the
creation of the Earth, the Solar System, the search for other planets, and the
possibility of aliens existing in space.
Alongside the books' scientific facts runs the hilarious story of Clara and her cat,
Sputnik, as they accompany the reader throughout the story's narration. The book
finishes with a gripping twist, which is guaranteed to wow young readers and turn
them into real-life space experts!
There is almost 20% off the book on the Kenny's website at the moment, so pick up
a copy while stocks last: https://www.kennys.ie/shop/is-there-anybody-out-there-1
The Bee is not Afraid of Me; A Book of Insect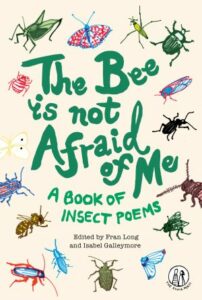 Poetry
Edited by Fran Long and Isabel Galleymore
Book: The Bee is not Afraid of Me; A Book of Insect Poems
Editors: Fran Long and Isabel Galleymore
Publisher: The Emma Press
Publication Date: March 2020
RRP: £8.99
ISBN: 978-1-912915-11-8
This stunning collection of poems is the perfect addition to the reading list of children
with interest in biology, insects, and the environment. The poems in this anthology
will take the reader away from a world of screens and bring nature to life before their
very eyes. This collection is both informative and inspiring, guaranteed to delight the
young reader and inspire creativity.
Included in the compilation are poems by Maureen Anderson, Celia Berrell, Stephen
Bone, Susan Byrne, Sharon Dalgleish, Anneliese Emmans Dean, Robert Ensor,
Imogen Forster, Rebecca Gethin, Chrissie Gittins and many more!
"These gorgeous and educational poems evoke a sense of wonder", Dr Sarah
Beynon, founder of The Bug Farm.
With the longer, brighter evenings and the bumblebees and ladybirds making an
appearance, what better time for a young reader to immerse themselves in this
delightful collection of poetry?
Get your copy now from The Emma Press: https://theemmapress.com/shop/the-bee-
is-not-afraid-of-me/
The Hatmakers by Tamzin Merchant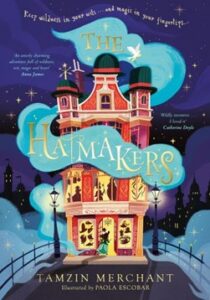 Book: The Hatmakers
Author: Tazmin Merchant
Publisher: Puffin
Publication Date: February 2021
RRP: €13.99
ISBN: 9780241491973
The Hatmakers is the first installment in a spellbinding new series of magical stories,
encompassing the mysterious Cordelia's life. Cordelia comes from a long line of
magical genes. Her family weaves magic into everything they create. Within her
world, Cordelia crafts items such as hats, cloaks, watches, boots, and gloves from
magical ingredients. This is a rare skill, and only a few exceptional families remain
with the ability to do use this kind of magic.
Cordelia's father is in charge of collecting the magical ingredients to add to the
creations. However, when his ship becomes lost at sea during an expedition,
Cordelia is determined to find her father. In the background, tensions stir, and a
magical war begins…
A thrilling, enchanting read with more twists and turns than could ever be imagined,
The Hatmakers will have young minds exploding with imagination.
You can buy it here: https://www.kennys.ie/shop/The-Hatmakers-Merchant-Tamzin
Cúirt is excited to reveal our Limerick writing competition in celebration of St. Patrick's Day.
The competition is open to four age groups:
Under 10's, 10-12, 13-17 and 18+.
A Limerick consists of five lines and is usually comical or entertaining. The first, second and fifth line rhyme with each other and have the same number of syllables. Limericks often begin with: 'There once was a…"
Email entries to info@cuirt.ie or share your entry on Facebook, Instagram or Twitter, using #CuirtComp. Make sure to tag Cúirt in your social media posts!
The winner for each category of the competition will receive a €50 cash prize.
The deadline for submissions is Sunday 21st March at 5 p.m.