03 March 2021
Bookmarked #10: One Month To Go!!!
 As we gear up for Cúirt second year as a digital festival, the countdown has truly begun! This week's Bookmarked will take a look at some of the exciting events we have in store for Cúirt 2021, which will be kicking off in just a little less than a month's time! We don't know about you, but we are so excited…
Inland Radius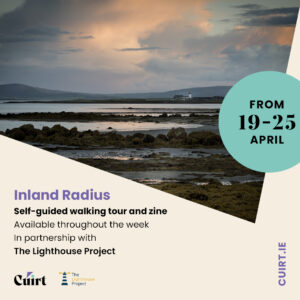 Available throughout the week     
Self-guided walking tour and zine
This event is sure to be an interesting way of reconnecting with nature and the world around us, in an age when almost everything is delivered digitally. The aim of the event is to bring us closer to Galway and our local landscape. It is a celebration of the relationship between humans and nature.
Come on a journey and find a new perspective on familiar paths. Guided by writer Sarah Maria Griffin, immersive theatre maker Máiréad Ní Chróinín and visual artist Shane O'Malley, you will follow a path featuring an audio tour, a bespoke zine and street art pieces, that maps a route from the Town Hall Theatre, Woodquay, to Mutton Island Lighthouse. Follow the trail in Galway City, or map the trail onto your own familiar path anywhere around the world. The lighthouse is calling. The trail is designed to give space for reflection, and to encourage an experience of our city and its environment in a fresh light. This unique, interactive artwork is inspired by Virginia Woolf's To the Lighthouse and the theme of personal journey.
Mind Your Language: Having a Word with Ourselves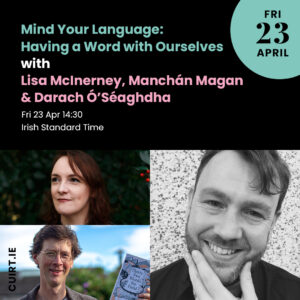 Fri 23 April 14:30
Irish Standard Time
An interesting event for anyone interested in the Irish language, or even those wondering about the connection between the two languages of our beautiful country, and they might be interlinked.
We're grand talkers in Ireland, and not many of us would consider ourselves Gaeilgoirs – but language doesn't develop in a vacuum; our unique blend of Hiberno-English, from 'We do be giving out' to 'You've it ruined', draws heavily from Irish sounds, syntax, rhythms and vocabulary.
Writers Lisa McInerney, Manchán Magan and Darach Ó Séaghdha come together to discuss the connections between Ireland's two languages, the many dialects that have sprung from this deep well and the writing that has emerged under this influence over centuries of use.
Manchán Magan is a regular contributor to The Irish Times and presents 'The Almanac of Ireland' on RTÉ Radio 1, as well as dozens of documentaries on issues of world culture for TG4, RTÉ & Travel Channel. His book, Thirty-Two Words For Field, explores the insights the Irish language offers into the landscape, psyche and heritage of Ireland.
Lisa McInerney's work has featured in Winter Papers, The Stinging Fly, The Guardian and Granta. Her debut novel The Glorious Heresies was published in 2015 and went on to win the 2016 Baileys Women's Prize for Fiction and the 2016 Desmond Elliott Prize. The Blood Miracles, was published in 2017 and the third book in the trilogy, The Rules of Revelation, will be released in May 2021.
Darach Ó Séaghdha is the host of the popular Irish language podcast, Motherfoclóir, and is the curator of the Twitter account @theirishfor. He is the author of two books, Motherfoclóir and most recently, Craic Baby, which explores the very new and very old parts of the Irish language from a personal perspective.
Bryan Washington: Memorial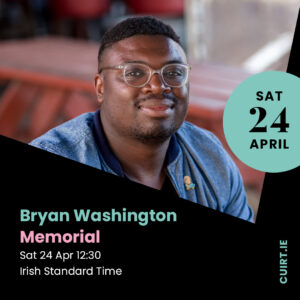 Sat 24 April 12:30
Irish Standard Time
 A thoughtful, witty and heartfelt debut novel, Bryan Washington's Memorial explores the challenges of intimacy, hard-won vulnerability and building relationships while dealing with your own shit.
Fans of Sally Rooney will enjoy Memorial, a story about relationships and what binds us together. When Mike finds out his estranged father is dying, he leaves to visit him in Japan just as his mother arrives to visit, leaving her in the incapable hands of his live-in boyfriend, Benson. He and Mitsuko become unconventional roommates, an absurd domestic situation that is at once moving and hilarious.
Bryan Washington is a writer from Houston. His fiction and essays have appeared in the New York Times, New York Times Magazine, The New Yorker, the BBC, Vulture and The Paris Review. He is also a National Book Foundation 5 Under 35 winner, the recipient of an Ernest J. Gaines Award, a PEN/Robert W. Bingham prize finalist, a National Book Critics Circle John Leonard Prize finalist, the recipient of an O. Henry Award and the winner of the 2020 International Dylan Thomas Prize.
Bryan is joined in conversation by Paul McVeigh.
"A new vision for the 21st-century novel. It made me happy" – Ocean Vuong.
Memorial is definitely one to add to the reading list, and this event is absolutely one to look forward to! You can pick up the book from Charlie Byrne's here: https://charliebyrne.ie/product/memorial/. 
The Alphabet of Birds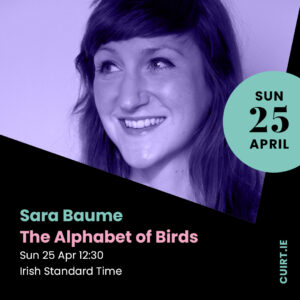 Sun 25 April 12:30
Irish Standard Time
Writer and artist Sara Baume covers wide ground in this spellbinding audio-visual essay: Sunday Mass and sea swimming; bird alphabets and stone collecting; Goya and Monet; the Stations of the Cross and the Sacred Heart of Jesus; bedrooms and bedsits; insomnia and parental love. Ultimately, it is a show about our obsessions and passions – the multitude of rituals that fill our daily lives with meaning.
Baume's new essay is inspired by short documentaries depicting artists at work on land and sea. These films, included in the show, focus on visual artists Gary Coyle and Laura Fitzgerald, and musician Natalia Beylis. A live soundtrack is performed throughout by musicians Irene Buckley and Elaine Howley.
The Alphabet of Birds is the second stage show from arts magazine and production company Holy Show.
Dinnseanchas/Tautitotito Whenua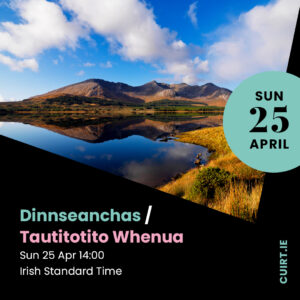 Sun 25 April 14:00
Irish Standard
Presented in partnership with Údarás na Gaeltachta, Cló Iar-chonnacht and WORD Christchurch
This event is guaranteed to be of interest to anyone with a passion for the Irish language! Though the physical distance between the Irish and Māori languages could hardly be greater, this major new commission brings together four writers to delve into powerful connections between our cultures, landscapes, mythologies and colonial histories.
Celebrating the imaginative potential of both Gaeilge and te reo Māori, writers Micheál Ó Conghaile, Máire Uí Dhufaigh, Hana O'Regan and Charisma Rungipunga will present their tautitotito whenua (reciprocal songs of the land), testament to the vitality of two languages which, despite violent historical loss, continue to inspire and astonish.
Work will be read in the native language of each writer, with translations available online. The discussion between the writers will be conducted in English.