04 April 2018
Family-Friendly and Children's Events at Cúirt 2018
This year's Cúirt line-up includes an entertaining programme for children and teenagers gathering writers, storytellers and illustrators for talks, workshops and exhibitions.
On Saturday 28 April, join Galway writer Deirdre Sullivan, illustrator Karen Vaughan, writer and journalist Anna Carey and illustrator Sam Winston, (artist and illustrator behind this year's Cúirt programme cover) for a full day of workshops, readings and discussions for ages 12-17.
On the final day of the festival, Sunday 29 April, there will be three events for young people. Award-winning illustrator Sam Winston will give a free artist's talk, Anna Carey will be reading from her latest book The Making of Mollie and Niall De Búrca will mesmerise audiences with a family-friendly storytelling event.
Running throughout the week, people of all ages will be able to enjoy an exhibition of prints and works by Sam Winston, including his award-winning project with Oliver Jeffers, A Child of Books. Extended Reading – Writing as a Visual Art will run Monday, 23 April – Sunday, 29 April at Galway Arts Centre.
CÚIRT LAB EVENT
9.30am – 5.30pm | Saturday 28 April | Galway Arts Centre | Tickets: €15 (includes lunch)
BOOK TICKETS
Suitable for 12-17 years old.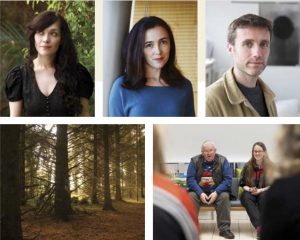 This full day of workshops, readings and discussions is ideal for young people with a passion for literature or art – or both!
Writer Deirdre Sullivan and illustrator Karen Vaughan will talk about working together on Sullivan's latest book Tangleweed and Brine, and will then lead individual workshops in writing and illustration. Writer, journalist and podcaster Anna Carey will then talk about creating a podcast and online content. She will also answer your questions on how to be a professional writer. Sam Winston, artist and illustrator behind this year's Cúirt programme cover and Galway Arts Centre exhibition, will give a workshop based on the process behind his work. After lunch, participants will have a guided tour of Red Bird Youth Arts Collective's exhibition in Gallery 3, made in collaboration with CAMHS, Merlin Park Hospital. They will lead a discussion on claiming public space and activism through the arts. The day will finish with a story exchange workshop facilitated by Narrative 4. The story exchange works on a simple idea: If I can hear your story deeply enough to retell it in my own words, as if it happened to me – and you can do the same for my story – then we will have seen the world through each other's eyes.
---
ARTIST'S TALK WITH SAM WISTON
1pm | Sunday 29 April | Galway Arts Centre | FREE but booking is required
BOOK TICKETS
Suitable for children aged 10+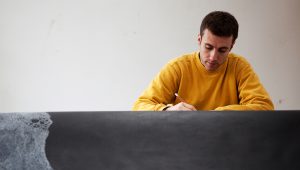 Award-winning artist and writer Sam Winston will be talking about his collaboration with Oliver Jeffers on their New York Times bestselling book A Child of Books. Winston will be discussing the joys and pitfalls of collaboration, how they found new approaches to storytelling and why writing is a visual art.
An exhibition of prints and works by Sam centred on A Child of Books will also run all week in Galway Arts Centre. Combining the rich landscapes of children's literature with intricately detailed typographic art, this exhibition looks to celebrate the power of classic stories through letterform and the art of the book.
---
STORY TELLING WITH NIALL DE BÚRCA
3pm | Sunday 29 April | Nun's Island Theatre | Tickets: €6 | All the family
BOOK TICKETS
Family Event
Raised on the west coast of Ireland now living in Dublin, Niall de Búrca is one of Ireland's finest traditional storytellers. At home he has featured in theatre, radio and at many festivals including FéileEarraai, the CS Lewis Festival, and The National Children's Book Festival. Abroad he has performed and held workshops in countries as diverse as Poland, Argentina, Italy and The Netherlands.
---
THE MAKING OF MOLLIE: ANNA CAREY
5pm | Sunday 29 April | Bite Club | Tickets: €6 | Aged 8 – 12
BOOK TICKETS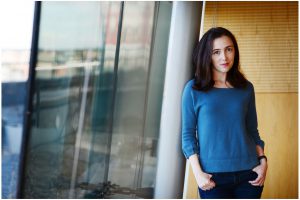 Anna Carey is a journalist and author from Dublin who has written for The Irish Times, The Irish Independent and many other publications. Anna's first book, The Real Rebecca, was published in 2011, and went on to win the Senior Children's Book prize at the Irish Book Awards.
The Making of Mollie (The O'Brien Press, 2016), her first historical novel, brings you back in time to 1912 Dublin where fourteen-year-old Mollie Carberry finds out that her sister, Phyllis, is a secret suffragette. Mollie decides she wants to join the movement too, but how far will she and her friend Nora go to stand up for their rights?